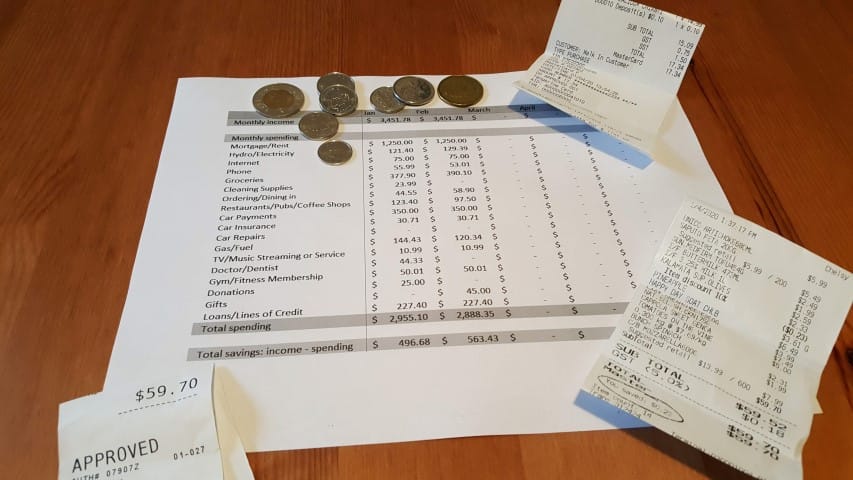 If you've already started to track your spending, you might be asking, "Now what?" The answer is, "Now build a budget!" This blog post will go through the basics of setting a personal budget to help get you started. If you haven't already, you can also check out the Tracking My Spending post, which goes hand-in-hand with this one.
First off, what is a budget?
A budget is an estimate of your future income compared to your expenses over a specific time period, like a month or a year. It is such a useful tool – companies, governments, and many families swear by them (whether they are wisely built or not). You can break a budget down into many specific expense categories.
Why is a budget important?
No matter what your finances are like today, they can probably be improved by setting a budget. A budget lets you compare your current spending to your ideal or target spending – where you want it to be. If you feel like you're constantly spending more on something than you should be or want to be, like clothing or groceries, you'll be able to identify this, make a plan for it in your budget, and then make changes.
After that, if you stick to your plan, you should be able to increase your savings. A budget can also help you plan for upcoming expenses. For example, my partner and I have a few large recurring payments due every fall. By anticipating these costs, we're able to plan for them, and then easily pay them when they come due.
A realistic budget is also a critical step in long-term planning. Ours lets us predict how much we'll be able to save in the months ahead. That helps us decide what we want to save for, and where we want to put our money. Whether you want to pay off debt, save for a house or trip, or invest, a budget will help you achieve your goals.
How do you build a budget?
Though you can build a budget at any time, it's a good idea to track your spending for a few months first. This helps you build a realistic budget that you can stick to instead of pulling numbers out of the sky and setting goals that you can't achieve. To get started, read more about the topic here.
As a quick note – there are many apps you can use to both track your spending and set a budget, or you can do it yourself using a spreadsheet or even pen and paper. I personally use Excel. Although it does take more time than an app, I find it makes the process feel more real for me – and also means that I know my personal financial data is private.
You can find a copy of the Excel template in Free Financial Resources. In addition to covering how to budget, it goes into recording income, tracking spending, and calculating an appropriate emergency fund.
When Do You Budget?
When you budget is totally up to you. I like to review my budget once every three months, but lots of people do it every month, while others stick to just once a year. How often you budget really comes down to personal preference. You can always adjust as you go, and as you discover what works best for you. Remember, the goal isn't to follow a specific set of rules or somebody else's process – ultimately you just want to find something that you can stick with.
Final thoughts:
No matter what your finances are like today, they'll probably be better if you build a budget. Whether you do it yourself in Excel, use one of many apps, or even write it out on paper, building a realistic budget that you can stick to will help you increase your savings, plan for large expenses, and ultimately allow you decide what you want to do with your hard-earned money.
If you've found this useful, remember to download a copy of the Excel template here.
To see how building a budget fits into a larger financial picture, read my keystone blog post: Seven Financial Rules I Live By, and subscribe for more.
Disclaimer:
Please keep in mind I am not a financial advisor and the opinions expressed are my own. My Money Moves does not provide financial advice – it is an informational website that details my own approach to my own money and personal finances. If you need specific financial help or guidance, please do your own research and seek out a professional who can work with you to reach your goals.