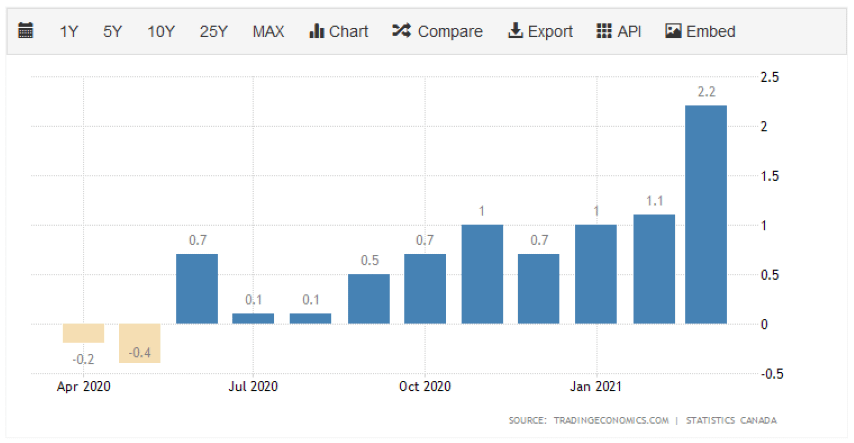 Personal Finance in the News – April 2021:
Welcome to Money News – April 2021! I have three noteworthy news topics for you this month. We'll cover Canada's new taxes, inflation, and the upcoming April 2021 tax deadline.
Read: The Federal Government has released its first budget in two years. This budget proposes a host of new taxes. Jamie Golombek's Financial Post article Five ways the federal budget could affect your taxes provides a great summary of upcoming tax changes. For me, the big takeaways are that the government is providing additional weeks of Covid-19 benefits, increasing Old Age Security cash for Canadians over 75, and introducing a luxury tax on expensive cars, boats, and personal aircraft.
Read: If you've noticed higher food and gas prices recently, you may be onto something. The consumer price index (CPI) in the US and Canada is starting to pick up. In America, annual price appreciation jumped from 1.7% to 2.6% between February and March 2021. Meanwhile in Canada, costs increased from 1.1% to 2.2% between February and March 2021. Watching inflation data can be important as it influences interest rates and the cost of borrowing.
Read & Watch: Canada's tax filing deadline this year is April 30, 2021. According to this BNN-Bloomberg article, 60% of Canadians are procrastinating on tax filing over fears they may owe. However, this can be a costly hang-up since the government is ruthless here and will charge interest on late payments. It's best to pay now and avoid paying more later.
That's all for now – thanks for reading Money News April 2021 edition! Stay tuned for more money news next month. In the meantime, check out my latest post on Housing Market Solutions. While most articles on this site focus strictly on personal finance, this housing article looks at Canada's red hot real estate market and proposes a few remedies.
Disclaimer:
Please keep in mind that I am not a financial advisor, and the opinions expressed are my own. My Money Moves does not provide financial advice – it is an informational website that details my own approach to my own money and personal finances. If you need specific financial help or guidance, please do your own research and seek out a professional who can work with you to reach your goals.